Upcoming shows
Beginning: 22.06.2021 - 19:00
Completion: 21:00
Sung in Russian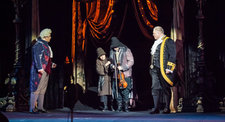 Dramatic scenes after A. Pushkin's same name tragedy.
Premiered on the stage of the Kyiv Opera on February 10, 2017.
Directors who lead the performance:
Scene 1
Salieri is rapt in gloomy thoughts. A well-known composer in Europe who enjoyed the perfect mastery in music, he is balefully envious of Mozart:
O heaven, where,
Where is the justise, when the holy gift,
Immortal genius, comes not as reward
For any burning love or self-denial,
Labor, diligence or prayer, but lights
Its radiance instead in heads of folly
And frivolity?.. *
Mozart enters. In order to give solace to his friend, Mozart brings with him a blind violinist who recently fiddled melodies from Salieri's operas in the tavern. The old man tries to fiddle melody from the 'Don Juan' opera. The violin sounds false. Mozart laughs, while Salieri is angry; he angrily turns the street musician away.
Mozart shows Salieri the new music piece. Salieri looks enthusiastic, but in fact he fails to cope with his despair.
They say goodbye to each other and agree to have lunch together. Left alone, Salieri decides to poison Mozart.
Scene 2
Private room in the 'Golden Lion' tavern. Mozart and Salieri are dining. Mozart tells about a stranger in black who came to him to commission Requiem, but who has never come again. 'My Black Man haunts me day and night,' he said confidently.
Salieri soothes Mozart:

"Beaumarchais would often
Say to me: 'Listen, Salieri, old friend,
When black thoughts come your way, uncorck the champagne
Bottle, or re-read the 'Marriage of Figaro.'"
"Salieri, is it true that Beaumarchais once poisoned somebody?" Mozart asks.
"Besides, he was a genius
Like you and me. And genius and villainy
Are two things incompatible, aren't they?"
At a moment Salieri is assailed by doubts, but then he surreptitiously pours poison into Mozart's drink. Being immersed in his thoughts, Mozart drinks the wine; then he sits down at the piano and plays Requiem. Salieri is stricken by music; he can not swallow his tears. Mozart interrupts his playing. "I'm not well just now. I need to sleep," he says.
Left alone again, Salieri is immersed in doubts, but it is too late because Mozart has already come to Eternity:
"But is he right,
And I'm no genius? Genius and villainy
Are two things incompatible."
The scene is laid in France in 1791.
* A. Pushkin's verse drama translated by A. Shaw.