Upcoming shows
Beginning: 26.10.2019 - 19:00
Completion: 21:00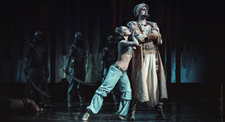 Libretto and choreography by Mikhail Fokin.
Directors who lead the performance:
The Shahriyar, the Sultan of ancient Persia, is enjoying the pleasures and entertainment of his concubines and favorite wife Zobeide.
His brother suggests that Zobeide is unfaithful and recommends that they pretend to go on a hunting trip.
As soon as the Sultan and his brother have departed, the concubines bribe the Chief Eunuch with gifts and flattery to unlock the gates and free the male slaves.
Their release ignites an orgy within the harem. Zobeide chooses the handsome Golden Slave, and they fall into a passionate embrace.
To everyone's surprise, the king returns early and, in a rage, orders that all be killed.
After all have perished and only Zobeide remains. She begs his forgiveness, but eventually realizes the futility of it all. She then stabs herself, falling at the feet of the Sultan.