Booking and purchasing an e-ticket
1. Go to Upcoming Shows section.

2. Choose the performance you want to visit.

3. Click on the "Buy a ticket" button.
This will transfer you to the Seating plan page.
We are sorry to inform you that this service does not feature an English version. For your convenience, all the screenshots provided below have an English translation of the most important information displayed on them.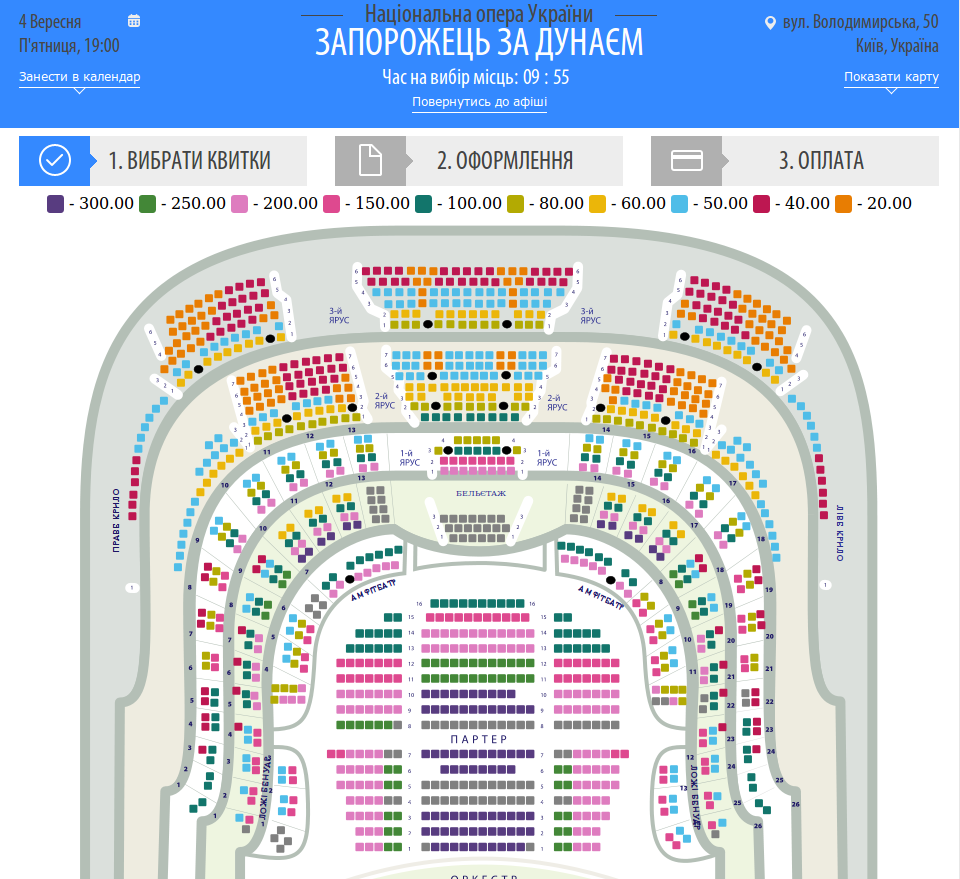 The color of each seat indicates its price.

Prices shown in the screenshot below are presented as an example and may vary.
You have to make your choice within a limited period of time that equals 10 minutes.
You may check on how much time is left using the timer.

4. Complete the purchase sequence.
It consists of three parts – choosing the seats, filing the order and purchasing.

5. Upon deciding on your seats choice, press the "Order the tickets" button (the one in the red box). 

6. Provide the necessary personal data in the "filing the order" part.
This can be done automatically using your facebook page info.
Make sure you double-check all the data, especially your phone number and e-mail. If this information is incorrect, you will not receive both the booking confirmation and your e-ticket.
7. Press the "Purchase" button (the one in the red box).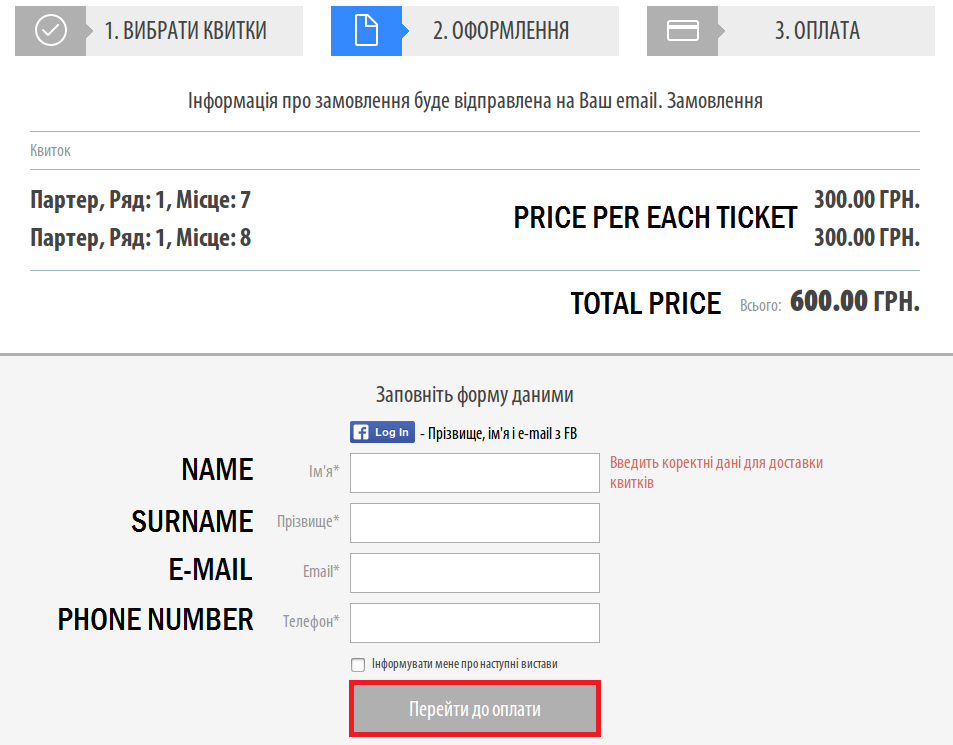 8. While in the Purchase section, select the method of purchase: Pay with the credit card or Make a booking (to obtain the tickets later via the theatre's ticket booths).

Should you choose the booking option, you shall be shown the number of your order and have the details sent to your e-mail.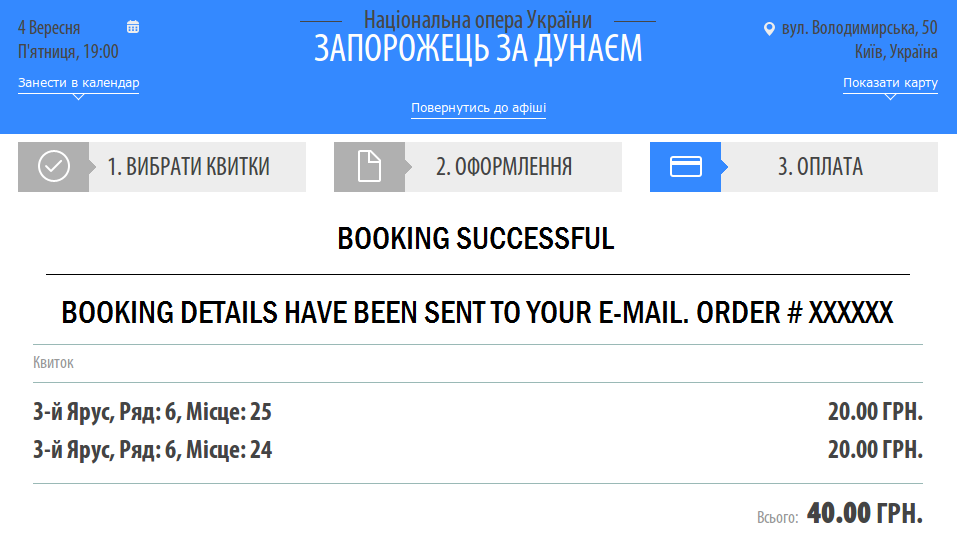 You can purchase the tickets you have booked either via the ticket booths or using your credit card. Please pay attention to the time and date of booking expiry. After the booking is no longer valid, the booked tickets will automatically become generally available. The purchase of the booked tickets is only available if the order number is presented.
Should you choose the Pay with the banking card option, you shall be transferred to the page of the LiqPay payment service.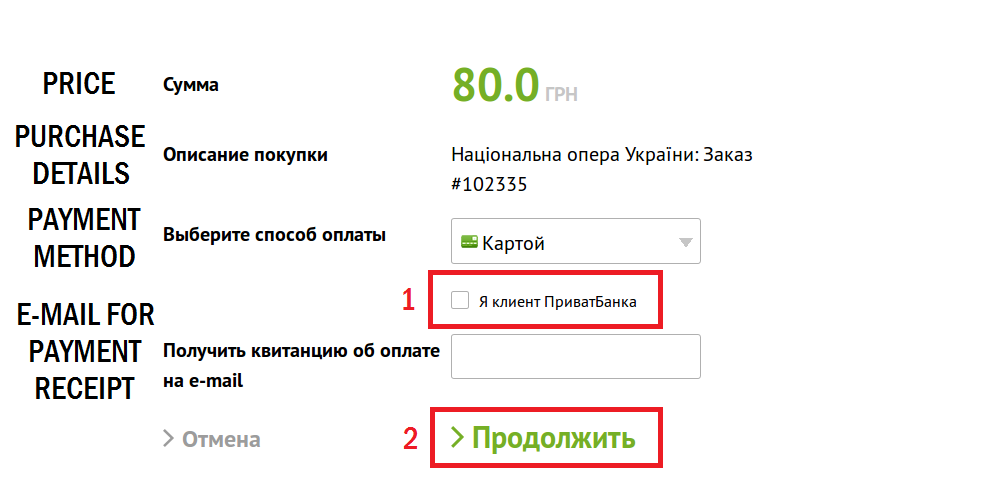 If you are a PrivatBank client, you can click on the corresponding checkbox (red box #1), then the "Continue" button (red box #2). This will transfer you to the Privat24 system.
Otherwise, you should fill out all the boxes presented below.
Card number

Expiry date

CVV2/CVC2

Your phone number (380xxxxxxxxx).
Make sure you double-check the input info before clicking "Pay" button.
Upon completing the previous step, the amount of money equal to your order price will be taken from your card and you will receive an e-mail containing the ticket print-outs (PDF files).
Upon printed, those become your valid tickets. They don't need to be exchanged in the ticket booth.
No commission for the online payment for tickets is charged.