Persons
General Management
Petro CHUPRYNA
General Manager of the theatre, People's Artist of Ukraine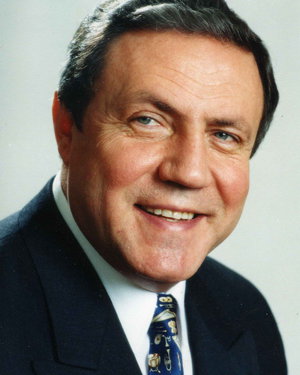 Petro Chupryna is a renowned specialist in the sphere of contemporary opera and ballet of Ukraine, a talented leader and the organizer of the creative working process.
After graduating from the conservatory he worked as an artist and sooner got the position of manager in the National Honored Symphony Orchestra of Ukraine. He also used to manage a number of other cultural and art institutions. Since 1992 he has been working in the National Opera of Ukraine, first as an executive manager and since 1999 – as its General Manager. In the period between 2002 and 2011 he was the theatre's artistic director as well. 
Nowadays the creative and organizational work of Petro Chupryna is driven by the search of the finest means of expression necessary for the integration of the National Opera, which plays the major role in the opera and music realm of art in Ukraine, with the world's cultural dimension. As the theatre's General Manager, he successfully brings to life the concept of the National Opera of Ukraine working in the context of European and world's tendencies, while thoroughly preserving, multiplying and enriching the national legacy and the traditions of the opera and ballet art. He can be credited for diversifying the theatre's repertoire, searching for the talented youth on a daily basis, significantly expanding the theatre's touring map, for triumphant accomplishment of numerous national and international music projects, including the production of the following: operas "Moisey" by M. Skoryk, "Turandot" and "Manon Lescaut" by G. Puccini, "La Gioconda" by A. Ponchielli, "Cinderella" by G. Rossini, "The Elixir of Love" by G. Donizetti, "Faust" by C. Gounod, "Macbeth" and "A Masked Ball" by G. Verdi, a ballet oratorio "The Frescoes of Kyiv" by I. Karabyts', ballet "Volodar Borysfenu" (The Master of Borysthene") by Y. Stankovych, "Caprices" by N. Paganini – M. Skoryk, "Ave, Verdi" festival, the theatrical performance of B. Britten' "War Requiem". All of the listed events had a positive impact on the diversity of Kiyv's cultural life. 
In 2003 Petro Chupryna was granted the honorable title of the People's Artist of Ukraine for highly professional attitude and immense personal contribution to the development and preservation of the country's historic and cultural legacy. In the same year he was also bestowed the Order of the Star of Italian Solidarity for personal contribution to the development of cooperation between Ukraine and Italy. Petro Chupryna was also graced with the Honorary Charter of The Cabinet of Ministers of Ukraine, the Honorary Charter of the Parliament of Ukraine; he is the bearer of the Order of Merit. Petro Chupryna is an Arts History Candidate and an Academician of the Academy of Arts of Ukraine.