Persons
Artistic Direction
Anatoliy SOLOVIANENKO
Chief Stage Director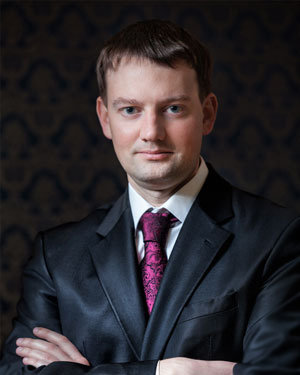 People's Artist of Ukraine.
Anatoliy Solovyanenko was born in the family of the legendary Ukrainian singer Anatoliy Borysovych Solovyanenko. He graduated from Shevchenko National University with a degree in jurisprudence, completed stage direction course by Honored Artist of Ukraine, Professor V. Patsunov in Kiyv National University of Culture and Arts and music direction course by Honored Artist of Ukraine V. Behma in the National Music Academy of Ukraine named after P. Tchaikovsky. In 2000 he became director's assistant in T. Shevchenko National Opera of Ukraine. Then he was promoted to the positions of director, stage director and main stage director in 2001, 2003 and 2011 respectively. He staged the following operas: "Moysey" by M. Skoryk, "Yaroslav the Wise" by H. Mayboroda, "Norma" by V. Bellini, "Natalka Poltavka" by M. Lysenko, "Zaporozhian Beyond The Danube" S.Gulak-Artemovskiy, "The Tale of Tsar Saltan", "Mozart and Salieri" N. Rimsky-Korsakov, "Tosca" G.Puccini, "Don Carlo", "Nabucco" G. Verdi. He also renovated the opera "Lucia di Lammermoor" by G. Donizetti and directed such plays as "Pagliacci" by R. Leoncavallo, "The Tsar's Bride" by N. Rimsky-Korsakov and some others. 
Anatoliy Solovyanenko is the main stage director of more than 300 international and national cultural and art events, including the celebration of the Constitution Day and the Independence Day of Ukraine, T. Shevchenko birthday anniversary, a series of "Bells of Chernobyl" and Holodomor victims tribute events, the Days of Armenian, Byelorussian, Kazakh and Vietnamese Culture in Ukraine, the ceremonial openings of the Years of Georgia, Poland and Kazakhstan in Ukraine, numerous festivals, concert programs and governmental concerts. 
In the period between 2002 and 2006 Anatoliy Solovyanenko was an author and a host of National Television Company of Ukraine series "Antrakt z Anatoliyem Solovyanenkom" ("Intermission with A. Solovyanenko") devoted to the art of opera. 
He is a laureate of Shevchenko National Prize (for staging of the opera "Norma" by Bellini, 2011), an Arts History Candidate, bearer of the Order of Merit of the 3rd and 2nd Class, the Order of Honor (Georgia), was graced with Honorary Charters of the Cabinet of Ministers and the Parliament of Ukraine and several prizes of the Ukrainian Orthodox Church.