Persons
Artistic Direction
Maria LEVYTSKA
Chief of Scengraphy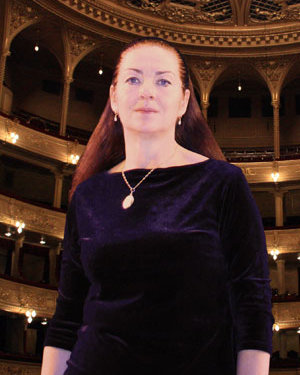 People's Artist of Ukraine.
Mariya Levyts'ka graduated from Kiyv State Art Institute (the Department of Theatre Set Design of the Faculty of Painting and the workshop of the People's Artist of Ukraine, prof. D. Lider). She used to work as a production and clothes designer at the Dovzhenko Film Studio. This work resulted in the following films: "The Return of Butterfly" (directed by O. Fialko), "Karmalyuk" (H. Kohan), "Potsilunok" ("The Kiss") (R. Balayan), "Kapitan Frakas" ("Captain Fracasse") (V. Savelyev) and others. 
Since 1989 Mariya Levyts'ka has been working as the Art Director General of the National Opera of Ukraine and has already produced an impressive number of plays, among which are operas "Lyubov' K Tryom Apelsynam" ("Love for Three Oranges") by S. Prokofiev, "Moysey" by M. Skoryk, "Aleko" by S. Rachmaninoff, "The Secret Marriage" by D. Cimarosa, "Lucia di Lammermoor" and "The Elixir of Love" by G. Donizetti, "Don Giovanni or The Rake Punished" by W. Mozart, "The Barber of Seville" and "Cinderella" by G. Rossini, "La Traviata", "Macbeth", "A Masked Ball" and "Don Carlos" by G. Verdi, "Lohengrin" by R. Wagner (costumes), "Madame Butterfly", "Turandot" and "Manon Lescaut" by G. Puccini, "La Gioconda" by A. Ponchielli, "Mazepa", "The Queen of Spades" and "Iolanta" by P. Tchaikovsky, ballets "Tcharivnyy son" ("A Magic Dream") by M. Lysenko, "Lebedinoye ozero" ("The Swan Lake"), "Shchelkunchik" ("The Nutcracker") and "Spyashchaya krasavitsa" ("The Sleeping Beauty") by P. Tchaikovsky, "Coppelia" by L. Delibes, "Corsair" by A. Adan, "Cinderella" by S. Prokofiev, "The Christmas Eve" and "Vikings" by Y. Stankovych, "Zhar-ptitsa" ("The Firebird") and "Petrushka" by I. Stravinsky, "Scheherazade" by N. Rimsky-Korsakov, "The Marriage of Figaro" by W. Mozart, "The Tale of Tsar Saltan" by N.Rimsky-Korsakov  and many more. 
Mariya Levyts'ka has also staged numerous plays in drama and music theatres of Ukraine, especially on the stage of the Lesya Ukrainka National Theatre of Russian Drama. Those are "The Story of a Passion" after H. James, "The Young Years of Louis XIV" after A. Dumas, "Taubele and Her Demon" by I. Singer and I. Friedman, "The School for Scandal" by R. Sheridan, "Fernando Krapp Wrote Me This Letter" by T. Dorst, and "Autumn Violins" by I. Surguchov. 
She also produced operas, ballets and drama plays in foreign theatres: "The Sleeping Beauty" (Gdansk, Poland), "The Tsar's Bride" (Maribor, Slovakia), "Taubele and Her Demon" (Haifa, Israel), "The Nutcracker" and "The Ukrainian Cinderella" (Canada). 
The plays including sets designed by Mariya Levyts'ka were great success during the tour of the National Opera of Ukraine in Germany, Switzerland, Denmark, France, Spain, Italy, Canada, Japan and other countries. 
Mariya Levyts'ka is engaged in prolific work dealing with panel painting, graphics and batik technique. She earned "The Best Project" diploma on the 1983 Prague Quadriennale that exhibited decoration and costume sketches. She took part in more than 30 exhibitions worldwide, including her own held in Ukraine (1987, '88, 2000, '02, '05), Japan (1990), Canada (1992), Poland (1991, 1996), Israel (1997).
Paintings by Mariya Levyts'ka are kept in the State Museum of Theatre, Music and Film Arts of Ukraine, the Bachrushin Theatre Museum (Moscow), and in private collections all around the globe. She is a member of the National Union of Artists of Ukraine, the National Union of Cinematographers of Ukraine, a corresponding member of the Academy of Arts of Ukraine, a laureate of the Shevchenko National Prize (2003), theatre arts prize "Kyivs'ka Pektoral" and "Lyudyna roku – 2000" prize, a bearer of the Order of Princess Olga of a 3rd Class.