Persons
Guest artists
George ONIANI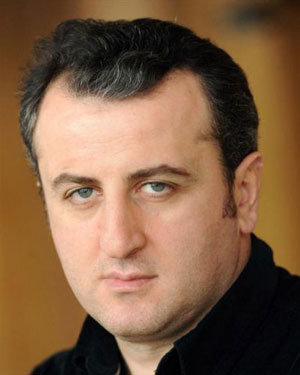 Tenor George Oniani born in Georgia, in 2001 he obtaiend the diploma in singing with the maximum mark at the Tbilisi State Conservatory under supervision of Maestro N. Andguladze.
1998-2001 ,2005-2008 G.Oniani was a solist of Tbilisi State of Theatre of Opera and Ballet. In 2001 he attended specialisation courses at the Hochschule Music and Theatre in Munich followed by the Maestro G.Fuchs. In 2001-2003 G.Oniani wos in" Accademia di perfezionamento per cantanti lirici" of Scala Theatre in Milan where he has studied with the Maestros: Leila Gencer, Luciana Serra and Luigi Alva.
In June 2002 he won the first prize at the VIII Edition of the International Contest "Riccardo Zandonai" in Riva del Garda.(Italy), Trajan Grozavescu International Competition: Grand Prize (Lugoj,Romania, 2003), Bul-Bul international Singing Competition: First prize and Best Tenor prize, (Baku,Azerbaijan,2005). His Italian Debut was in Scala Theater in Milan opera from Giuseppe Verdi "Oberto,conte di San Bonifaccio" (2002) George Oniani has sing in many important opera Hauses: La Scala Theater in Milan, Theater Carlo Fenice in Genova,Verdi Theater in Busseto, Bellini Theater in Catania,Theater Comunal in Rio de Janeiro, Opera Theater in Mexico City (Mexico),Marinsky Theater in Sankt Petersburg (Russia), Theater in Lisbon (Portugal), Osaka (Japan), Konzertebow in Amsterdam, Macau Cultural Center in Macau (China), Deutsche Opera in Berlin,Volksopera in Vienna, Kroatian National Theater in Zagreb,Theater Bonn, Sout Africa State Theater in Pretoria, Latvian National Theater in Riga,New Theater in Moscow, Munchen Philharmonie Gasteig, Jerusalem Konzert hause in Jerusalem (Israel),and many Opera Haussen Germany, Belgia, Italy, Hungary, Holland,Israel, Turkay, Russia, Swiss, Sweden, Lituania, Estonia, Kroatia, George Oniani in the course of Carier, who now masters the gerne heroic, Spinto Tenore, has worked with many renowned Directors and Conductors of the World: Riccardo Muti, Pier Luigi Pizzi, Pier Alli, Nicola Luisotti, Stefano Ranzani, Will Humburg, Antonello Allemandi, Marco Bohemi, Jansug Kakhidze, Reinald Giovaninetti, Isaac Karabchevsky, Stefan Blunier, Yuri Aleksandrov, Dimitri Bertman, franz Von Leake, Silviu Purkarete, Dietrich Hilsdorf, Balash Kovalik, Gianluca Marciano, Fabiano Monica, Marcus Bosch, Bruno Berger-Gorsky...e c George Oniani more than 100 times sang his favorite Roles: Manrico-"Il Trovatore", Radames-"Aida",Cavaradossi-"Tosca", Duca di Mantova-"Rigoletto", Rodolfo-"La Boheme", Turiddu-"Cavalleria Rusticana", Riccardo-"Un ballo in Maschera" and many more.