Persons
Guest artists
Petro OSTAPENKO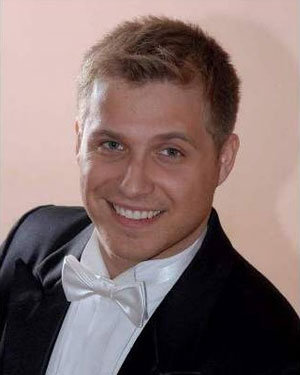 Baritone Petro Ostapenko was born in Malin, Ukraine. From 2008 to 2013, he studied at the National Academy of Music of Ukraine where during that time he participated in numerous concerts. In 2009, he attended W. Mateuzzi's Master class in Kiev.
In 2010 he became a principal soloist at the National Operetta Theater of Kiev where he debuted as Freddy (Loewe's "My Fair Lady"), Marsel (Kalman's "Das Veilchen vom Montmartre"), Otocar (Strauß's "Der Zigeunerbaron") and Schlendria (Bach's "Schweigt stille, plaudert nicht").
While studying the academy Petro took part in several productions with an orchestra at the Orera Studia Theater. He sang the parts of Fiorello (Rossini's "Barbiere di Siviglia"), Mykola (Lysenko's "Natalka Poltavka"), Il Conte (Mozart's "Le Nozze di Figaro"), Guglielmo (Mozart's "Cosi fan tutte") and Robert (Tchaikovsky's "Iolanta").
In 2012, he performed at the Musica Polonica Nova Festival in Wroclaw and shared the stage with soprano Sofia Soloviy and conductor Volodymyr Sirenko.
In 2013, Petro participated in the "ION DACIAN" Operetta Festival at the Opera Theater of Bucharest.
Throughout 2012 and 2013, he performed at various chamber music concerts in Kiev at the National Organ and Chamber Music Hall of Ukraine.
In 2013 he received a scholarship to study at the Opera Academy of the Teatro alla Scala in Milan where he was taught by such professors as R. Bruson, L. Serra, L. D'Intino, and J.D. Florez.
In the 2014/2015 season, Petro sang the part of Dandini in Rossini's "Cenerentola" at the Teatro alla Scala.
In May 2015, he took part in the production of the modern opera "CO2" on the stage of the Teatro alla Scala.
At the end of July 2015, he played Officer in "Barbiere di Siviglia" at the Teatro alla Scala, together with Leo Nucci and Ruggero Raimondi.