Persons
Guest artists
Yaroslav IVANENKO
Choreographer, ballet director and chief choreographer of Ballet Kiel /Theatre Kiel/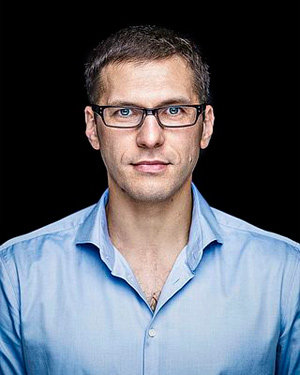 Yaroslav Ivanenko is from Kiev, in Ukraine. He received his dance education at the National Conservatory for the Arts in Kiev and thereafter was engaged by the Ukrainian National Theater. Engagements followed in the Czech Republic and Slovakia. In 1998, Ivanenko joined the Hamburg Ballet John Neumeier, where he danced many solo roles and toured internationally.
While still actively performing, Ivanenko began choreographing regularly and quickly earned encouragement in the form of prizes and original commissions. His very first choreography won Special Mention of the Jury at the first International Prix Dom Perignon. The following year he also won the Public's Choice Prize at the Prix Dom Perignon.
At this time he choreographed often in creative collaboration with chamber music ensembles. Musical partners have been the Ensemble Resonanz, Ensemble Sarbande, Concertino Ensemble, Niklas Schmidt and Norway's Vertavo Quartet, as well as contemporary composers Masato Hatanaka and Antonin Comestaz.
In 2011, Ivanenko was invited to become Artistic Director and chief choreographer at Theater Kiel. Under his direction the company has earned renown and developed a diverse repertoire.
Ivanenko's choreographic language evolves out of his background as a classically trained dancer. It is fluid and athletic, with emphasis on challenging technique and partnering work. Often playfully humorous, his work encompasses refreshing reinterpretations of ballets from the classical canon, as well as original contemporary works and multi media projects.
Ivanenko has choreographed several adaptations of literary works, such as Chekov's "Three Sisters", "Eugene Onegin" and "The Picture of Dorian Gray", by Oscar Wilde. He has choreographed "Faust", and his "Myth of Kafka" project was shown in Hamburg and Copenhagen.
For Ballet Kiel he has done his own version of Nutcracker, Swan Lake, and Sleeping Beauty, as well as Romeo and Juliet, and an enchanting Cinderella set in the world of the circus manege. He has been able to explore contemporary movement with his ensemble in abstract works such as, "Following a Bird," "When She Went Away", also the humorous "Moving On" to music of Ray Charles.
Crossover projects have included Verdi's Requiem, with Kiel Opera, and "The Mysterous Case of M.M." which explores the enigmatic death of Marilyn Monroe, with the actors in the leading roles.
In the past years, Ivanenko has had the opportunity to present his work internationally, in England, Denmark, Portugal, Ukraine, Poland, Slovakia, Turkey, Japan and the USA.
https://www.yaroslavivanenko.com