Upcoming shows
Beginning: 13.05.2021 - 19:00
Completion: 21:00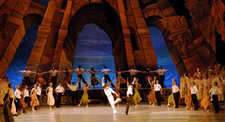 Libretto by L. Massine based on a novel by N. Kazantzakis.
SUMMARY
Events are unfolding in the mountainous Greek village. The American tourist John comes here to take part in the ancient Dionysian mysteries.
John falls in love with the Greek Marina, regarding which an undivided feeling burns within her compatriot Manolios.
The local population is hostile to foreigners. Who knows what this could lead to, but at this time Zorba returns to his native town, a free and impartial person who is very different from his countrymen. As a challenge, he enters into a business relationship with John, and in the end they become friends, revealing to the foreigner the deep meaning of the ancient ritual dances of Dionysus worshipers.
Madame Hortense, a former soubrette, falls in love with the passionate Zorba, who responds to her feelings. The hostility of the population to the lovers John and Marina erupts with renewed vigor, fuelled by Manolios' vengeful jealousy. The crowd tramples Marina to death.
John is threatened by young Manolios' friends, but Zorba saves the American.
The friends' business fails. Madame Hortense dies of tuberculosis.
The upset Zorba seeks solace in dance. Together with John they manage to unite the people, charging them with the life-affirming energy of dance.
There is a meeting of two worlds and two civilizations: on one side - Alexis Zorba, a man of the earth and the mountains; the other - a young American, John, who has to learn to understand the world and people so new to him. Life must continue to hope for a better future: this is precisely the message of the dance of Zorba, John's teacher and mentor.
The sirtaki folk dance reflects the all-conquering power of the Greek people, the strong and ancient nation that is embodied in Zorba.
This energy cannot be destroyed - thanks to it the world continues to live.