Upcoming shows
Beginning: 26.10.2019 - 19:00
Completion: 21:00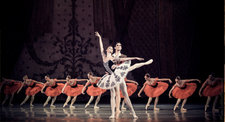 "Paquіta" - ballet to the music of Edouard Deldevez
with new musical additions by Ludwig Minkus.
The literary basis of the ballet was
the novel by Miguel de Cervantes "The Little Gypsy Girl".
The ballet premiere took place in Paris
on the stage of the Grand Opéra in 1846.

On the stage of the National Opera of Ukraine
the Grand Pas from the ballet "Paquita" is presented.
(Staging by Nikita Dolgushin, created in 1979)
edited by Aniko Rekhvіashvіlі.
Costume Designer:
Iryna PRESS
Director who leads the performance: