Upcoming shows
Beginning: 26.10.2021 - 19:00
Completion: 21:00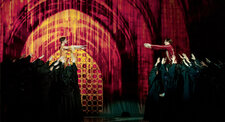 Libretto by Yaroslav Ivanenko
based on the works by Dante Alighieri
La Vita Nuova and La Divina Commedia
A Ukrainian-Italian Artistic Project
on the occasion of
the 700th anniversary of Dante Alighieri's death
with the support of
the Embassy of Italy to Ukraine
and the Italian Cultural Institute in Ukraine
Project Coordinator
Nicola Franco Balloni
Choreography and staging:
Visual design:
Livio SAVINI
Artistic supervision:
Davide BROCCOLI
Graphic design:
Giuseppe FLORA
Costume Manager:
Milana SKORYK
Concertmasters:
Mariia SKLIARENKO
Directors who lead the performance:
SYNOPSIS
Prologue
A boy was born to the noble Florentine family Alighieri and he was named Dante. He grew up vigorous and curious.
Act I
At age nine Dante first met Beatrice Portinari at his parents' friends' party. He liked her; the children became friends and they vowed to each other to be friends forever.
Concerned for his education, Dante's parents hired the best teachers for him. Dante grew up to be highly educated and well-mannered young man.
Beatrice succeeded in the art of dance. She has grown into a beautiful and attractive girl reared in the best traditions of etiquette of the time.
Dante is turning 18. He encounters beautiful Beatrice again at a ball and falls in love with her. Her soft glance and delightful smile inspire Dante's unending romantic dreams of Beatrice. Dante adores Beatrice endowing her with the unearthly traits; she is his muse and his mysterious love.
Beatrice is surrounded by a horde of admirers, but Dante manages to be alone with her and to confess his love to her. He is happy and in love…
But cruel fate destroys sweet dreams – soon Beatrice dies. He can not resist the blow of fate; he is unable to realize that his beloved is no longer alive. Оvercome with grief, he falls unconscious.
Act ІІ
He finds himself in the underworld. Here he is accompanied by the shade of Virgil who promises to conduct him to Beatrice.
Passing through the circles of Inferno and Purgatorio the wanderers see the intorelable suffering of the lost souls of sinners. But the terrible sights fail to prevent Dante from going along the way to his lovely Beatrice. Angel's voice strengthens his fortitude. Dante faces the gate of the Paradiso and meets Beatrice circled by angels. The souls of the lovers ascend to stars…